Why Thern Stage Equipment?
Established in 1948, Thern Inc. has become a worldwide leader in providing exceptionally made lifting, pulling, and positioning equipment for applications across a wide range of industries. Matching Thern's long-standing reputation of manufacturing excellence and customer satisfaction, Thern Stage Equipment upholds the same high standards when serving clients in the theater and entertainment market.
This reputation is why we were chosen for high-profile projects such as creating a custom winch to raise and lower the New York City Times Square Ball used for the famous New Year's Eve countdown and providing the custom roll drops that transformed the BC Place stadium in Vancouver with a first-of-its-kind stadium reduction system. Rely on us to elevate your performance and to make your vision a reality.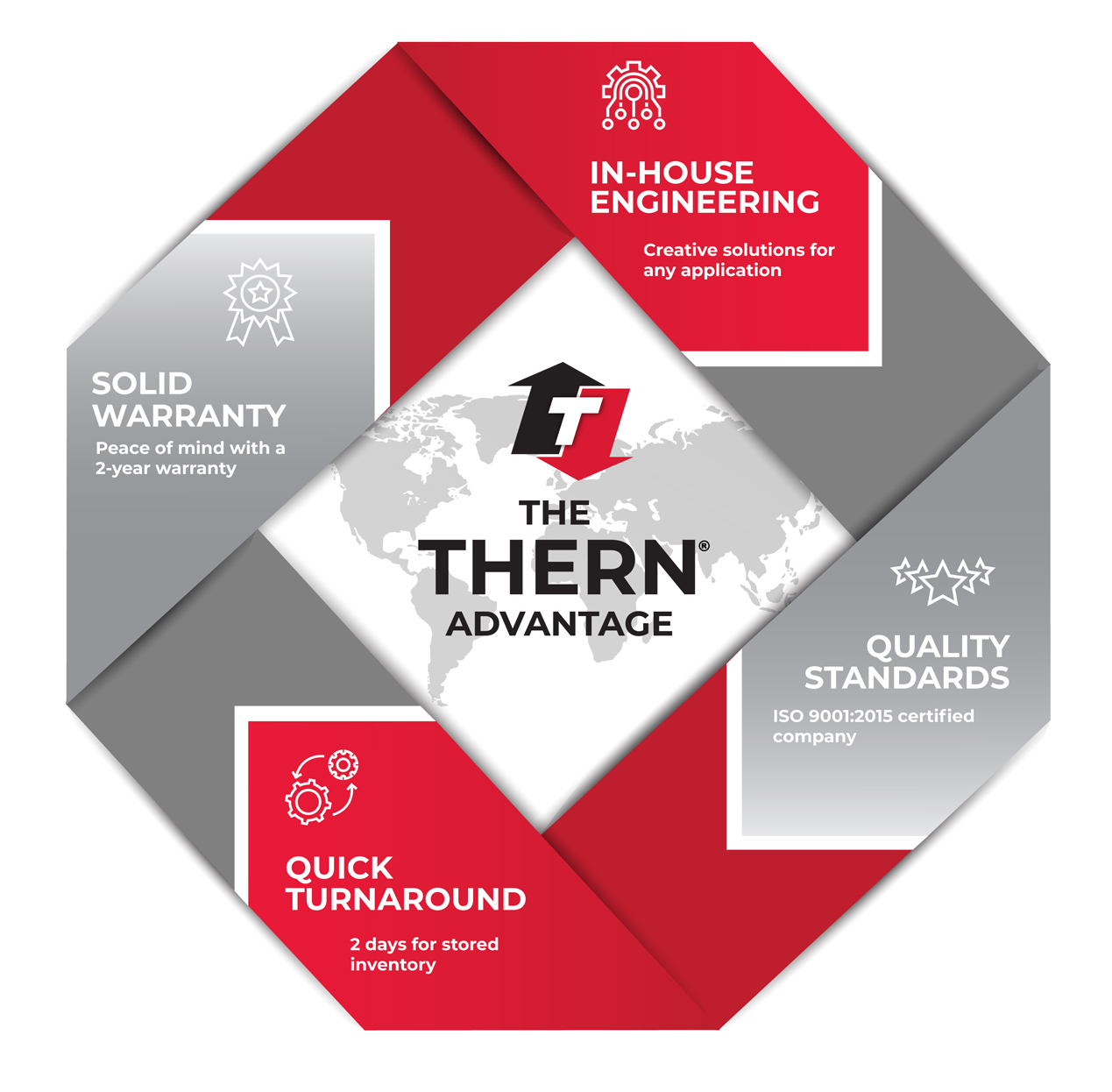 IN-HOUSE ENGINEERING
Pooling decades of knowledge, our experienced in-house engineers consult, design, and make modifications as necessary to provide unsurpassed solutions for any application.
QUALITY STANDARDS
Being an ISO 9001:2015 certified company, we make sure that every product we manufacture in the U.S.A. meets our strict quality standards and is thoroughly tested for performance and durability.
QUICK TURNAROUND
We take pride in offering exceptional lead times that you can count on. We can ship most standard products within two days of order placement. Even our custom products are modular in design with lead times that rival competitors' delivery of standard products.
SOLID WARRANTY
Have peace of mind as we guarantee consistent service life for your Thern products by offering a two-year limited solid warranty to ensure complete customer satisfaction.

| Differentiator | Thern Stage | Most Competitors |
| --- | --- | --- |
| All Equipment Manufactured in the U.S.A. | | |
| Over 70 Years in Business | | |
| Team of Experienced In-House Engineering Experts | | |
| Friendly & Knowledgeable Customer Service Team | | |
| High-Quality Equipment that is Rigorously Tested for Performance & Durability | | |
| Completely Customized or Turnkey Solutions | | |
| ISO 9001:2015 Certified Company | | |
| Exceptional Lead & Turnaround Times | | |
| First to Commercialize the Revolutionary Front-Loading Arbor: Brickhouse™ | | |
| Experience Working with a Diverse Range of Venues from Performing Art Centers to Schools and Arenas | | |
| Successful High-Profile Projects from New York City Times Square Ball to the BC Place Stadium in Vancouver | | |
| Industry-Leading Warranty for Complete Customer Satisfaction | | |
Our Mission
Thern Stage Equipment is dedicated to working closely with our customers to fully understand their project requirements, with the objective of designing, building, and supplying top-quality stage rigging equipment that meets all of their needs. We strive to ensure that the customer's experience reflects the quality, service, and tradition of excellence established by Thern, Inc.